It was the spring of '72, and a young newlywed couple, budding teachers, needed to find summer jobs. They flipped through the local phone book in search of day camps close to their Framingham apartment. The closest was Camp Sewataro.
"Alba interviewed us…the only two openings were Fishing and Tennis, which was perfect; I would do Fishing, and Stefanie would do Tennis."
And so began Dan Nicholson's long and illustrious Sewataro career.
"Forty plus years have flown by. My son and daughter are Sewataro alumni, and this summer two of my grandchildren will be at camp," Dan says proudly. "It is an honor to continue in my role as Dan-Dan the Fisherman." Incidentally, the nickname is attributed to the Sewataro campers themselves. ("I can just hear a Ponca say, 'Dan! Dan! I need a worm!'")
Dan's own fishing career began when he was three years old – a mere tadpole! "The fish I caught were always bigger than my dad's. That's one of the joys of fishing – the young can be as successful as the old." Today, that same kind of success is one of Dan's favorite parts of his job. "It is always a joy to see campers' excitement when they catch a fish," he says with a smile. He also enjoys running into parents of second generation campers. "They always have tales to tell of fishing adventures when they were campers," he says.
Speaking of tales…What's the most unusual thing that's ever been fished out of the pond?
"A heron dove into the water and ate the worm off a hook. It then took flight as the fishing rod sailed fifty feet in the air…the camper was very excited to take the bird home after it landed, but after a short talk about respecting the gifts of nature, the camper happily aided in the release of the heron."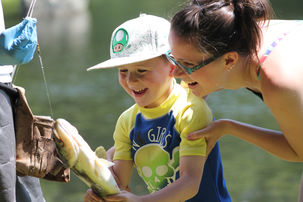 Although there is a routine to each Fishing period, it never gets old. Campers and staff alike look forward to Dan's shtick each week, including: "Dan-Dan the Fisherman's Trivia," ("Raise your fin if you know the answer…"), Darwin the Monkey, the singing fish ("Don't worry…be happy…") and bad puns by the barrel. Dan taught High School Social Studies for forty-four years (he is now retired), and it's clear he knows how to keep kids engaged.
Today Dan and his wife Stefanie are still "madly in love." They cherish their Monday through Friday "job" of caring for two of their four grandchildren, and thankfully Dan has no plans to retire from camp any time soon. "Camp Sewataro has given me the spark and joy that has made such an impact on me and my entire family. As a seventy-two year old grandfather of four, I'd say I have another twenty years or so until I'm fishing at Camp Sewataro with my great grandchildren."