It's just about that time, friends! Big doings around Liberty Ledge these days – we're gearin' up and gettin' down and dirty! Check it out…
Emmy and I moved "down the hill" from the winter off ice (a.k.a. Alba's House) to the summer office at Headquarters.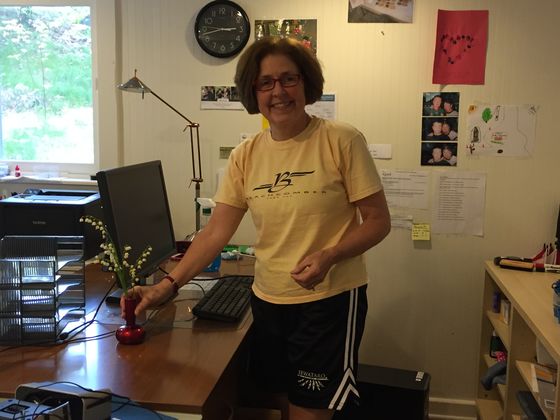 Amy Podolsky has been with us in the office since February and she is very busy gathering and processing all of our staff's paperwork. The amount of paperwork required for each staff member creates a heavy workload on our part and on the part of the staff.
H.Q. is all abuzz! Nikki is busy bagging tee shirts for staff members (our first training is this weekend!), while Abby is assisting Emmy with all things Transportation (bus routes, PDs, etc.).
Alumni counselor (and resident Super Scheduler) Dan Gorman is carefully combing through the giant web of Scheduling, ensuring that programming for every tribe is exactly as it should be. This year Dan had the added task of creating an entirely new schedule (within the giant Master schedule) for our newest tribe, Junior Camp. Dan is a recent graduate of the University of Notre Dame, who recently landed a job at Aon Risk Solutions in Chicago. We're so lucky that Dan comes back to lend his skills and expertise to camp scheduling every year – thanks, Dan!
Sam Thyne and Jackie Saideh are hard at work organizing swim groups and getting waterfront materials in order.
My, how the garden has grown! Mark built a new pergola for the garden this year and all the veggies, fruits and flowers are flourishing in response to the excellent care they are receiving. Get ready for Iron Chef competitions in a few weeks!
Our Sprouts team has arrived and they are setting up the Sprouts area. We added three new sensory tables over the winter. Nicole, Lauren and Samm are off and running with creative ideas for another magical summer in Sprouts Land.
Tribe Leader Carly Chelton helps out in the office most weekday afternoons. Here she is getting the Longhouse in shape for Extended Day activities, while Sam Termine is busy updating our alumni data base.
Assistant groundskeeper Mat is back, and already getting those pools clean and the water a sparkling blue. Note we have new heat pumps this summer; we're turning them on and warming up the water for all those happy swimmers!
In addition, with safety always our top priority, we have had a tick prevention spray applied to the woody areas of camp bordering our open fields…
and Rusty's Tree Service has made several trips around the property clearing out dead trees and branches. Mark keeps detailed notes on the condition of the trees throughout the seasons and knows which trees need pruning and which trees need to be removed.
The new site for the Junior Camp tent has already been prepared, the concrete floor poured and tent poles placed!
Last, but certainly not least, this year we hired a new technical support company. As a major camp improvement project, we worked with them to design a new WiFi system. Mark has been busy setting up the system by installing five antennas and access points throughout the campgrounds.
More updates to come! Can't wait to share the magic of Sewataro with your children, and we look forward to seeing you at Open House on the 26th.